Coffee for Keisha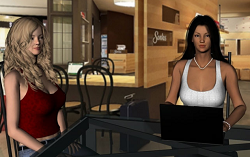 Review :
This game is a spin-off from the very popular 'Keeley' series. Keisha first appears in the original Virtual Date with Keeley game and subsequently in Life with Keeley. If you are in a hurry and need some quick Keisha you can also find her in the 'Daydreaming with Keeley' mini game.
There seems to be something attractive about Keisha as opposed to Keeley and I hope it's more than just her bottom. The Keeley character is seriously stacked in terms of looks, but seems a bit doll-like with an immature, naive and, if being harsh, selfish personality. You may not get this impression if you have haven't played the other games in this series. (You may just be left wondering how the heck you get the blonde) Keisha comes across as a woman with real desires, depth, intelligence and a nice arse.
The game follows a relatively believable story line about striking up a relationship with Keisha. You work in a coffee shop by day (where you met Keisha) and are an as yet undiscovered rock & roll singer by night. Strike up a date by getting through the screening questions posed by her wingman Keeley, avoid the desperate groupies and share some intimate secrets with her and you make it through to the 'nice' ending. There is also a 'naughty' ending and a 'bad' ending.
The animation (some) is good and the dating and sex scenes build sexual tension and ultimately deliver satisfaction. The mini-games in the middle of sex scenes are probably trying to build additional sexual anticipation and challenge for the viewer, but I'm not sure they do.
How to Play
Early in the game you get characterised (e.g. unassuming, aggressive etc) You can only get the naughty ending if you get the aggressive label. You need to be labeled as unassuming to get the nice ending, or the bad ending.
The label is determined by how you make the first two choices and get past the score of 2 out of 7.
You cannot progress to the ending unless you select the hard level when you start the game. Also you must get a high enough score to move on in several areas of the game.
The mini action games (e.g hand job, dancing, and of course fucking) all give you additional points. If you `skip minigame` then you lose points and cannot finish the last stage.
Verdict :
If you have some time and want to play a quality game with some nice endings.
Play Now : Coffee for Keisha
Hints & Tips:
Save the game at each decision point and restore if you don't get the points you were chasing.
You need 54 points or more to progress to the last and very sexy stages of the game.
-->
Coffee for Keisha Review : This game is a spin-off from the very popular 'Keeley' series. Keisha first appears in the original Virtual Date with Keeley game and subsequently in Life with Keeley. If you are in a hurry and need some quick Keisha you can also find her in the 'Daydreaming with Keeley' mini game. There … [ Read More ]