An Afternoon with Hayden
My life had become tedious over the last 3 months since the break down in the relationship with my wife. After years of arguments, constant bickering and an extended period where it just didn't matter anymore I shouldn't have been surprised when it did happen. The finality of it actually coming to an end still leaves you sad and empty inside.
Sometimes moments in your life come along that change the direction of your mindset completely. A thursday afternoon would be such a moment for me.
My job was taking me to Perth to attend a conference and to visit some project delivery partners around the State. As I digested the information about the upcoming trip, I was conscious that there was a girl I knew that had moved to Perth for a new job about 2 years ago.
Hayden
was a girl who seemed happy most days. Not bring the house down beautiful, but nonetheless attractive. She usually dressed conservatively and was married to a guy who I think sold cars for a living. Whilst we had worked in the same department for several years, we had only worked on a couple of projects together. We had spoken casually several times at office functions and after-work drinks, and despite there being rapport, we were both very much personally invested in our respective relationships at the time.
I hadn't spoken with her since she left and I had some contact details that I wasn't really sure would still be current. I sent her an email telling her about my visit to Perth and asking if she had time to catch up while I was in town.
Her reply came about 2 hours later. I returned to my desk and there it was in the inbox. It's funny how amongst all the other work related dross an email that you want to see can make you so happy. From the words she used, or at least the way they made me feel, she seemed excited that I was visiting.
She could catch up on the Thursday afternoon that I was in Perth. I was initially delighted that she could meet up, until I remembered that Thursday was day 2 of the conference and I had a special session to attend. A dilemma, skip the conference session? or take the meet up with Hayden?
Of course I replied, what time Thursday would you like to meet?
After scheduling the meeting with Hayden into my trip itinerary I didn't really think too much about it again. A 6-hour flight on Tuesday to Perth arriving at midnight and then up at 6am on Wednesday to get to day 1 of the conference and a long day of speeches and workshops. Dinner with other delegates and a few too many free drinks and Thursday morning was a challenge.
I looked at my watch it was 2.30pm and I was meeting Hayden at 3pm. I took my chance and exited. In the cab I turned my phone to silent just in case someone from work or the conference was looking for me. I arrived at the coffee and with a little hesitation, I scanned the area for signs of Hayden. She wasn't there, but I was a little early. I took a table and waited, nervously looking at my watch for the time and phone for text messages.
At around 3.05 Hayden arrived. People can change alot over 2 years. She looked more mature, she strode towards me confidently and her appearance although still conservative had changed from a young girl to a woman. Her auburn hair was straighter and perhaps a little longer. She greeted me with an enthusiastic hug that lingered slightly, there was no polite kiss of the cheek. She wore a grey dress which was business attire. I stole a glance of it ride up her thighs from her knees as she sat at the coffee table.
We ordered coffee and chatted about our work lives for over an hour. There was not too much conversation on a personal level. I did notice that her wedding rings were absent about 10 minutes into the conversation. I can't be sure, but I think she realised what I had observed, and she did likewise. I still had my rings on. I hadn't mentioned anything about being separated.
The conversation was going well, we chatted just like any old work friends. Hayden spoke about one of the places she had visited in her new job and pulled out her phone with some pictures to show me.
She moved around closer to my side of the table. Perhaps by accident, or maybe by intent, the outside of her hand brushed mine as she held the phone in front of me. A little tingle went through my whole body.
This small momentary touch seemed to awaken and heighten a new sense of intimacy between us. Hayden remained closer to me at the table.
After another 10 minutes or we stood to leave and our bodies brushed each other as we rose. As we made our way to the payment counter there was a moment when our bodies came together as if magnetised as we walked together. I placed my arm around her waist to balance us, but for a brief moment, it felt more like a romantic embrace.
I looked directly into Hayden's eyes and they were literally glistening. Her lips parted slightly, she smiled warmly and said softly, 'would you like to show me your hotel room?
My heart nearly beat out of my chest as I slipped my arm further around her waist and held her slightly more boldly. Our faces were now drawn closer and I felt a longing to press my lips to hers and taste her. This meeting was definitely not over. I replied, 'I would like that a lot, Hayden.'
We reached the counter and I paid. I ushered Hayden to a cab and we climbed in the back seat. For 20 minutes we hardly spoke, we sat close enough to be intimate, we looked at each other, but we didn't touch until I took her hand. Her fingers softly stroked my hand. The expectation was intense.
We arrived at my hotel and I led Hayden toward the elevator. We entered and stood side by side toward the front of the elevator. As the doors closed we turned to face each other.
Now alone, the intimate intensity of the cab ride burst as I met her body in a lover's embrace. I pressed my lips to hers and as they parted our tongues entwined. I explored her mouth with deep pent up passion. My hands roamed her back and then moved lower to her caress her firm ass. I felt her breasts and nipples as they pressed against my chest.
Blood flowed and my erection was fast and hard. She felt it press against her and she reached down and began to softly stroke it through my pants as we kissed. With this new arousal, I backed her to the wall of the elevator and my hands cupped and felt the fullness of her breasts. My thumbs lightly teased her nipples through her blouse………..BING.
The elevator heaved to a stop and the doors slide open. A teenage boy was waiting for the lift. As the doors opened to a semi-erotic scene he smirked like his daddy had left the credit card with him for the day.
An abrupt stop of the lift was not the only thing to occur. Like sprung school kids, Hayden and I separated and quickly re-adjusted our clothing and demeanor. It was hard to completely cover my full excitement but thankfully the kid exited the elevator only a few floors up.
Hayden smiled at me and we both laughed. We held hands till we reached the door to the apartment on my floor. I opened the door and we entered. Politeness caused me to ask Hayden if she would like a drink and I headed toward the fridge as I invited her to take a seat.
She looked at me and her eyes let me know that a drink was not what was on her mind. She smiled as she removed her shoes and sat seductively on the lounge.
Her dress lifted up her thighs as she sat down. The sight of her legs from feet to thighs was enough to entice me closer. As I approached she playfully blocked my path with a cushion and smiled wickedly.
With my path toward her meekly blocked, Hayden rose from the lounge.  She slowly lifted the hem of her skirt to reveal not only there were no panties, but her pussy was clean shaved and ready for me.
I was transfixed as I savoured the striptease she was unfolding before me. She revealed her breasts and gave me a fuller view of her pussy.
She stood with her breasts still exposed and her nipples erect, and as I approached I anticipated the soft touch of her skin as I moved to embrace her.
She folded her arms in playful attempt to resist my embrace,
and then spun around to have me touch her from behind.
After the sensation of the initial embrace, I grabbed the hem of her dress and lifted it slowly revealing her bare bottom. My cock was instantly fully erect again and bulging uncomfortably in my pants. I smelt her hair as I pressed into her from behind and my cock nestled firmly between the exposed cheeks of her arse. I reached around and cupped her breasts and gently caressed her nipples with my thumbs.
I gently stroked my cock along the crease of her arse cheeks in a prelude to our imminent fucking. Hayden turned her head and our lips met. The taste of her mouth raised the level of passion and I spun her around to face me.
I peeled her dress from her shoulders, slowly revealing her breasts and then her stomach. Gravity then took over and the dress fell to the floor. She stood before me perfectly naked. With auburn hair, a beautiful face with blue eyes and a welcoming smile, firm breasts and hard nipples, a flat stomach, and silky smooth legs that led to a perfectly shaven pussy.
She moved back to the lounge and smiled flirtatiously, "now you can see me, how about I see you?'
I sat down and removed my shoes, socks, undid my belt, and removed my pants. Hayden watched intently as I pealed my shirt and then removed my underpants. At the sight of my fully erect and now pre-cum covered cock, she leaned, and then crawled, toward me on the lounge.
I was transfixed by her beautiful blue eyes as she gently pushed me back on the lounge and straddled me until my cock feathered her skin directly above her pussy. My hands slipped around her waist and slide up to caress her breasts and tease her nipples.
In rhythm with my hand movements, she slowly moved her hips to brush the shaft of my cock. Each time she rocked would bring the tip of my cock closer to her pussy. She raised her arms above her head and arched her back. My hands slide down her waist towards her pussy to find her clitoris, I felt its arousal and I rubbed momentarily with two fingers. I then slowly traced the lips of her vagina and slipped them inside her.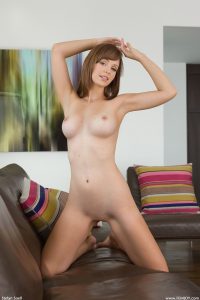 She was soaked and more than ready for my cock.
Hayden looked me in the eyes. She moved her upper body toward me. She kissed my lips and her tongue attacked my mouth. Her breasts touched my chest. She lowered her hips and moaned as my cock penetrated her and plunged into the warm sensation of her pussy.
We paused momentarily with my cock fully inside her. We both savoured the sensation of first entry. I moved my hands to the cheeks of her arse and I guided her as she rose to the point where the head of my cock just touched her pussy lips. I again felt the sensation of my cock penetrating her as she lowered her hips. This time I gently thrust upward as she reached the base of my shaft. The rhythm intensified as we started to fuck.
We kissed passionately, her tongue was in my mouth, her breasts heaved and were pressing against my chest,  she rode my cock with our hips pulsing to the stroke of her ride.
As we fucked I felt her begin to tremble slightly. She moaned as I thrust slightly harder. She shuddered in climax as her pussy clenched and her hips locked around me. It took everything I had not to come, but I wanted more, and I wanted to fuck her hard.
After a brief pause, she slowly began to move again. Gentle strokes along the shaft of my cock. I took the initiative and flipped her over to lay her back on the lounge. I spread her legs and felt the gooey warm pleasure as my cock entered her pussy again. This time I took more control and I thrust inside her more forcefully. I gripped her shoulders and then pinned her hands as I began to deep fuck and pound her pussy. Her breath shortened and I could feel her rising toward another orgasm. She looked me in the eye and began willing me. 'fuck me, fuck me, fuck me' she purred, louder with each and every thrust of my cock into her pussy.
This was driving me insane with pleasure and I kept fucking her. I completely lost all control. No hand brakes, no holding back, just wild fucking.
Her pussy clenched around my cock again and her whole body shuddered. As she climaxed she look at me longingly and pleaded, 'please cum inside me.'
I grabbed her cheeks and kissed her as I pumped her harder and then exploded warm cum into her pussy. She squirted love juice all over my cock.
We collapsed against each other and enjoyed an afterglow embrace. Our bodies felt so perfect together. We kissed softly and exchanged some words to coo about the experience we had just had.
'Would you like that drink now?'
'Some food?'
As the night progressed we ordered room service and shared some really nice post-coitus intimate moments.
'Perhaps a shower as well?'
We shared a shower and the caressing, groping and further exploration of each other's body led to her giving me a delightful blow job. She swallowed my cum. I fucked her 3 more times on the bed and each time cumming inside her. The last time being a gentle spoon fuck that left me wondering how nice it would be to maybe penetrate her cute little arse.
When the time came for Hayden to leave I asked whether she had time to catch up again. 'I would really like to see you again before I go back home.' I was exhausted from the fucking we had done that afternoon and into the evening, but in truth, I felt I was only just getting started. I wanted to fuck her again and again. I thought she felt the same, but I could see from her vexed expression that another meeting was probably not going to happen. She said she would try to re-organise her schedule and would let me know. I was slightly disappointed, but I kissed her and walked with her downstairs to a waiting cab to take her home.
I trudged back to my room, thinking about what had just occurred,  drifting off to thinking about work and how I might catch up with whatever I had missed by undertaking this amorous adventure with Hayden.
When I got back I noticed my phone had a new message.
Hayden had sent me a text….'Thanks you for a wonderful time this afternoon. I have wanted you and have dreamt about fucking you for so long. I hope we can meet again soon.'
All photos of the very lovely Hayden Winters are courtesy of Femjoy.
Please consider all their offering at their web site – Femjoy.com